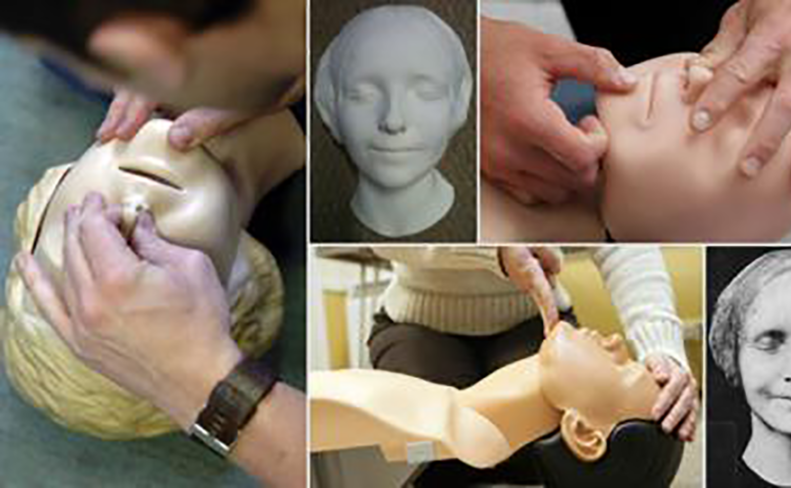 The story behind the most kissed face in the world
So the story goes that in the late 19th Century, a drowned body of a young woman was recovered from the River Seine. As was customary in those days, her body was put on display at the Paris mortuary, in the hope that someone would recognise and identify her. The pathologist on duty became so entranced by the face of the girl with her half-smile that he asked a moulder to take a plaster cast of her face.
Before long the mask began to appear for sale outside the mouleurs' workshops on the Left Bank and soon the young woman's face became a muse for artists, novelists and poets, all eager to weave imagined identities and stories around the mystery woman. Over the years Artists fell under the Inconnue's spell and at one time no fashionable European drawing room was complete without a mask of the Inconnue on the wall.
One of the first stories featuring her was of an innocent young woman from the country who came to Paris, was seduced by a rich lover and then abandoned when she fell pregnant. With nobody to turn to, she drowns herself in the waters of the Seine, a modern Ophelia!
It was another drowning, or near drowning, that ensured the Inconnue a place in medical history.
In 1955 Asmund Laerdal saved the life of his young son, Tore, grabbing the boy's lifeless body from the water just in time and clearing his airways. Laerdal at that time was a successful Norwegian toy manufacturer, specialising in making children's dolls and model cars from the new generation of soft plastics. When he was approached to make a training aid for the newly-invented technique of CPR, the combination of chest compressions and the kiss of life which can save the life of a patient whose heart has stopped – his son's brush with death a few years earlier made him very receptive.
He developed a torso or whole-body manikin which simulates an unconscious patient requiring CPR. Laerdal wanted his manikin to have a natural appearance. He also felt that a female doll would seem less threatening to trainees. Remembering a mask on the wall of his grandparents' house many years earlier, he decided that the Inconnue de la Seine would become the face of Resusci Anne.
So if you're one of the 300 million people who's been trained in CPR, you've almost certainly had your lips pressed to the Inconnue's.
Through Resusci Anne, students of first aid have for more than 50 years been trying to bring back to life the young woman from the Seine.