About In Safe Hands
In Safe Hands Training | First Aid & Health and Safety Courses Cornwall
In Safe Hands provides a full range of First Aid, Pre-Hospital Care, Health and Safety, Food Safety, Manual Handling, Professional Trainer and Assessor Qualifications, Care Sector Training, and Fire Safety training courses locally, nationally and internationally.
As well as comprehensive First Aid and Health & Safety training, we are also very proud to be able to offer a vocational pathway from novice to registered Paramedic (subject to entry requirements).
The series of First Response Emergency Care (FREC) courses provides a 'step-by-step' and 'level-by-level' approach for someone with no experience to become an Ambulance Technician, with the prospect of becoming a Registered Paramedic. This modular program can be completed here in Cornwall or with our national and international partners which include placements in Latin America and the NHS's frontline services.
You can be assured in the quality our training by our long-standing and varied client base which includes The Home Office, the MOD, The National Trust, international retail brands, local and national care organisations, medical organisations, international charities, manufacturing, construction, hospitality, travel and tourism and education.
Like all our customers, these organisations enjoy the simple processes and reliability of working with us here in Cornwall or anywhere else!
Who we are
Tim and Liz Puffer, directors and masterminds behind the brain child that is In Safe Hands Training.
The In Safe Hands journey has taken them from the humble beginnings, from an office in a spare room of their home, to building a state of the art simulation facility here in beautiful Cornwall!
Their mantra has always been about providing a first class 'experience', from first contact to the award of a candidate's certificate. This has been achieved through constant and progressive reinvestment, ensuring the vitality of the customer experience.
This "duo" has grown the business tenfold, and are constantly looking at new and innovative ways to engage with businesses and individuals using the latest technology and resources.
Backed by a small team of dedicated staff, this family business is certainly on its way to ridding Health and Safety and First Aid Training of its "bad press". Birthing a new age of stimulated training, incorporating all senses, for an experience that is all encompassing!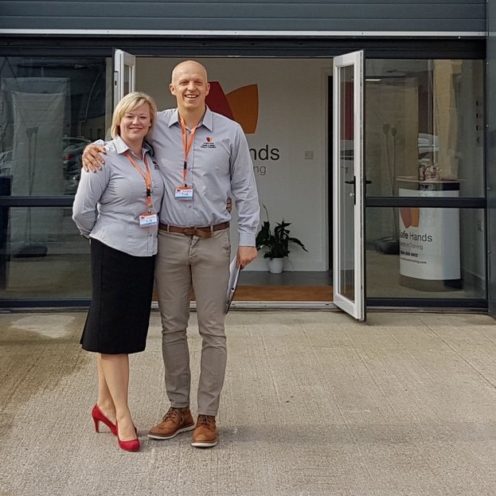 How we work
We're not your normal 'run of the mill' training provider!
In Safe Hands was founded in 2006 and every day, month and year since, we've been training people like you to save lives and work safely.
When you train with us you'll not only learn new skills and build confidence, but undergo training that's truly experience based.
We use immersive and simulative training to not only teach new skills, but to build credible experience.
Our simulation experience is used as much as possible throughout our courses… because nothing beats it!
Aside from having a unique simulation training centre right here in Cornwall, we also provide training nationally and internationally.
Our team of experts are always on hand to support your learning.