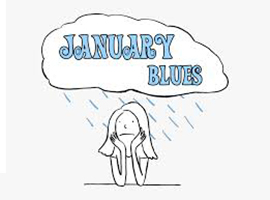 January Blues
For some the dreaded January blues can be a very real condition.
The holidays have passed, returning to work can be difficult, there might be additional inches around your waistline (affecting your confidence), the weather is grim, it's a long month and for many there is copious amounts of debt to clear!
Besides all of this there is a pressure to stay sober through it all, Dry January, and be vegan-Veganuary. While these cleansing 'diets' may be good for you, these could also bring about more worries, pressures and financial stresses.
If you have been feeling down since the start of the new year, you are not alone!
But don't despair, there are a few simple ways to make January a less hostile month.
Sunlight: find it when you can, where you can and take it all in for as long as possible-10 minutes is just about enough time for vitamin D to soak in and start improving your mood.
Exercise: a proven mood lifter. Get down to your local gym, go for a swim, walk, whatever gets you out and moving will be highly invigorating, give you a sense of accomplishment and even lower stress levels.
Talk: it's so easy at this time of year to hibernate but we are social creatures and we need people. Arrange playdates, coffee dates, dinner dates with people who you might not have seen during the holidays. Get rid of all the leftover pringles and quality street that's around, staring at you, tempting you – you'll be grateful for it.
These suggestions are just that and might not work for everyone.
There are many professional organisations that are easily accessible and are happy to help, all you have to do is reach out!
If you're experiencing a personal crisis, are unable to cope and need support Samaritans offer emotional support 24 hours a day – in full confidence.
For support in a crisis, Text Shout to
If you have concerns about a colleague, friend or relative why not book yourself onto one of our Mental Health First Aid courses to learn more about recognising the signs and symptoms of mental ill-health  and sign posting people in the right direction.
https://www.insafehandstraining.com/book-a-course/first-aid-training-courses/mental-health-first-aid/