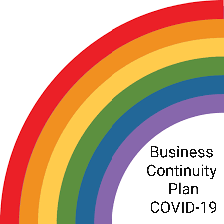 Business Continuity Plan
25th March 2020
Clearly the current situation globally and in the UK has been seriously disruptive to lives and business. The team here at In Safe Hands are committed to following government guidelines to save lives and protect the NHS.
That said we are still operating a bespoke operation to meet the needs of key workers and any other customer when government guidelines can be adhered to.
We are operating remotely from the centre, however we're connected via phone (normal number), email and social media.
Some customers have already received our awesome training in some very adaptive ways since the 'lockdown' and 'social distancing' came into force.
Aside of our fantastic array of e-learning courses, we've been training via video link (Zoom/Teams but others can also be used) to ensure compliance and development can still be improved.
We also have our amazing shop with some great kits and other vital supplies.
We are still doing what we do, just doing it different!!
Keep well everyone,
Team ISH