Emergency Response Pool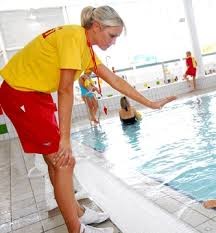 This unique qualification allows any member of staff to respond to swimming pool emergencies and provide first aid. This could be used for facilities where there are no lifeguards, or to support a current lifeguard team.

The Emergency Response Pool programme is designed for use in small pools no greater than 1.5 metres in depth.

The course is separated into 3 sections covering the following:
Section 1 – The Emergency Responder's role, Pool Safety Operating Procedures, types of pools and swimmer safety information.
Section 2 – Responding to an emergency and the Emergency Action Plan
Section 3 - CPR and First Aid

Optional Elements – AED and/or Pool Extraction Board (PXB)

Delivered over two days, this interactive 14-hour course includes a variety of learning experiences including; classroom discussions and guided learning, practical elements of first aid, in-water safety, rescue and casualty extraction. The in-water training elements consist of 4 hours which are broken down into 4 visits to the pool, twice each day.