Safer Moving and Handling of People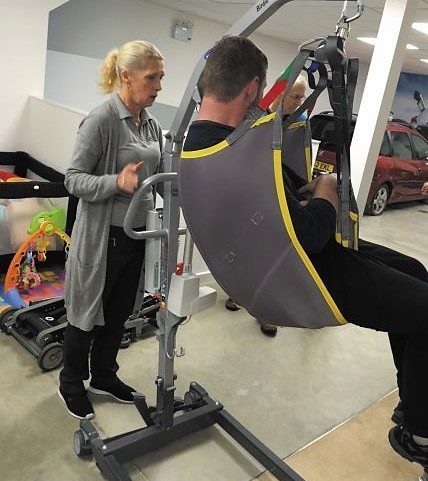 This safer moving and handling course is the requirement for anyone who is caring for an adult. During this one day course you will cover the basic principles of manual handling followed by an opportunity to use various pieces of equipment. It will also consist of an introduction to basic lifting and handling techniques, equipment, risk assessment and manual handling tasks.

It may be that you would like us to deliver the training at your premises for a group of staff or relatives, this is ideal if you have equipment such as track hoists and moving aids or specific training to over come an everyday obstacle or task.

Alternatively we offer this training regularly at our centre. To name a few bits of equipment: we have a hospital bed, mobile hoist, wheelchair, slide sheets and transfer aids along with an actual car to demonstrate this action effectively.

This course will include:
• Introduction to manual handling
• What is manual handling
• The human body and the spine
• Common injuries
• Injury prevention and treatment
• Basic handling techniques – tailored to the working environment
• Manual handling risk assessment
• Provision for varied practical content
• Legislation around the use of equipment in care
• Safe use of equipment

This bespoke training is accompanied by a certificate of attendance which is valid for three years and for those in the care industry the CQC require this to be maintained annually by attending a half day refresher course.